You have just bought a new air fryer and are completely "in the zone" and obsessed with cooking everything in it! If you're anything like me, then you'll know this to be true. 
Besides caring for your new air fryer, you will also want to stay vigilant about other aspects of your kitchen — such as your countertop.
Air fryers are essentially mini convection ovens. This means that they can get very hot, and that heat has to release itself in some way. 
An item that is flat, heat resistant, and water resistant would go best underneath an air fryer to protect your countertop. 
In this article, I'll present the top five shortlisted items you may find around your home, or buy, that are appropriate to go underneath an air fryer. Any of the below materials work just fine, and hopefully this guide will assist in your decision making! 
Keep reading to find out what to put underneath your air fryer to protect your countertop.  
Should You Put Something Underneath Your Air Fryer? 
The brief answer is: yes. 
If you want to protect your countertop, it is a responsible idea to buy something to place underneath your air fryer.
If you are a moderate user, like myself, then 180-200 degrees Fahrenheit of heat is being produced each day to cook food. This heat has to go somewhere, and unfortunately it goes on your countertop. 
Kitchen countertops can be expensive. If you want to reduce wear and tear as much as possible, it is best to have a "buffer zone" between the air fryer and your countertop.
If you haven't purchased an air fryer yet, but are doing research about which one to get, read our product comparison for the Philips and Nuwave air fryers.
Will My Air Fryer Break My Countertop?  
Don't worry, it is unlikely that an air fryer will break your counter top or burn it. 
Now, if you are an extreme air fryer fanatic (using it every meal, every day!), then you may have experienced some damages. 
This article will outline the preventative measures you can take to protect both your air fryer and countertop.
Ensure you read the manual for your air fryer. Some air fryer fans are on the bottom of the unit. You will want to allow enough ventilation for the air fryer to prevent overheating.
At -a-Glance Product Chart 
We've cultivated a small at-a-glance chart for you to see acceptable materials to place underneath your air fryer.
| | | | |
| --- | --- | --- | --- |
| Silicone Trivet Mats - Amazon's Choice | | Easy to clean, very heat resistant, no-fuss | Not as stylish, mats can be small  |
| Metal Countertop Protectors - Amazon's Choice | | Stylish, heat resistant, easy to clean  | May dent easily, may become very hot  |
| Glass Cutting Board - Amazon's Choice | | Stylish, easy to clean, discreet looking | Could break, not super heat resistant  |
| Stone Pizza Tiles - Amazon's Choice | | | May become dingy, may break |
| Rachel Ray's Wooden Cutting Board - Amazon's Choice  | | Durable and heat resistant | Not water resistant, may weather away, maybe not the right style for a modern kitchen |
Top Five Items to Protect Your Countertop 
I've compiled the best items you can use to put underneath your air fryer to protect your countertop. 
If you use your air fryer every day (or almost) for 30 to 40 minutes, then I wholeheartedly recommend looking into at least one of the following.
Silicone, in general, is  a top notch protective material. You can use these mats for both extreme heat and extreme cold. These mats are also easy to store away and easy to clean. As multipurpose products, you can use them for virtually any occasion. Silicone is also more of a sustainable material than plastic.
One downside to these mats is that if you have a relatively stylish kitchen, these mats may not fit with the aesthetic. They are definitely a product of function rather than fashion, which isn't a bad thing but an element to bear in mind. 
Additionally, if your air fryer is large — like the Philips Air Fryer XL — then you may need a few mats side by side to cover the entirety of the air fryer. (This isn't so much a downside as it is a slight inconvenience.)
As far as protecting the air fryer and the kitchen countertop, silicone mats are my first choice.
Check out the latest price on Amazon. 
Do You Know: What Happens When You Put Ice In A Deep Fryer? [Quick Answer & Top Tips]
These metal protectors are strong contenders for the best product to preserve your countertop. That's why they made first runner up on this list.
They are very heat resistant and can look quite stylish in a contemporary or modern home kitchen.
Since the protectors are metal, this means they can dent easily. If you have a heavy air fryer, then your countertop will be fine but your metal protectors may suffer a few dents. Try to place the air fryer on them with care.
Check out the latest price on Amazon. 
Stylish, but also practical, the glass cutting board comes in at second runner up. 
The suggested glass cutting board is great for any style countertop whether you have granite, glass, or wood. It's multipurpose use can extend to beyond placement underneath your air fryer. 
Glass cutting boards are not heat resistant overall, so there are limitations there. 
Yet, this board will fit nicely underneath your air fryer and serve its main purpose: to protect your countertop.
Check out the latest price on Amazon. 
Stone pizza tiles are definitely a creative way to add some flair to your kitchen. These stoneware tiles can withstand high heat and are therefore acceptable to place underneath an air fryer.
They withstand heat, but put too much heat on them and food may stick to the surface. I don't foresee this being an issue since food will not go directly onto the tiles, but a few Amazon reviews do state this as a downside. 
Check out the latest price on Amazon. 
You may also be interested in: How Many Watts Does An Air Fryer Use? [Quick Answer and Cooking Tips]
Wood is heat resistant and durable. Using a wooden underlay for your air fryer will easily protect your countertop. Because this wooden cutting board is sturdy, it won't skid around as much.
This particular cutting board is gorgeous. There is a slight risk in damaging it with the heat emitted from the air fryer, but the chances are minimal. 
Check out the latest price on Amazon. 
Discover: Can You Put Oil In An Air Fryer? [How To Do It & FAQ]
Mistakes to Avoid if You Own an Air Fryer
Purchasing an air fryer is an investment. Copious amounts of research and development has gone into the product, air fryers are kitchen tools designed to last for many years. 
To properly care for your air fryer, you will want to consider the following: 
1. Never "Stifle" an Air Fryer: 
This means not letting the air fryer vent. You want to position it on a level and hard surface (most kitchen countertops are fine).
2. Washing Infrequently: 
Speaking from personal experience, the best way to care for your air fryer is to hand wash it. (I know, I know …) This may not be the exact level of convenience you had been hoping for, but I promise it will be worth it in the longer term. Any leftover food in the basket will cause the air fryer to smoke.
3. Only Place it Near Heat Resistant Materials: 
Keep in mind that the air fryer will emit some heat. You will want to ensure that anything positioned near the air fryer is able to withstand its heat. 
Read our article, How to Use Philips Air Fryer for the First Time, for more tips on how to care for your air fryer after use. 
Where Should I Place My Air Fryer on My Kitchen Countertop? 
If your kitchen countertop is already heat resistant, like mine, then perhaps purchasing a protector isn't a necessity. 
The placement of your air fryer is also important. You will want to place your air fryer with enough room to let it vent. This means placing it at least five inches away from any wall or hard surface. 
Be sure you are not "cramming" your air fryer in a corner. 
You can even use your air fryer to reheat food, like steak! Check out: How To Reheat Steak In An Air Fryer [How-to and FAQ]
Final Thoughts 
If you have purchased an air fryer, protect your kitchen by placing the air fryer in the best place to ventilate. If you have nice countertops, then I recommend purchasing some silicone pads to place underneath it in order to protect your space. 
The best option is the silicone mats because they are extremely durable, do not weather, and are easy to remove and clean. Albeit, they are not the most fashionable option, but you can arrange them in a way where they remain hidden underneath the air fryer when you are cooking.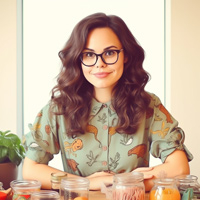 Latest posts by Jennifer Ulloa
(see all)
Last update on 2023-09-10 / Affiliate links / Images from Amazon Product Advertising API