The answer is not so straightforward. 
Using fully ceramic cookware on glass top stoves can harm your stove top, so it is best to avoid them. These utensils can scratch or break your stove top because pure ceramic is very heavy. 
Most ceramic cookware that is appropriate for glass top stoves end up being mostly made from metal with a small exterior coating. Ceramic cookware is constructed from natural materials with coatings that mimic metal cookware. 
In theory, cookware that is not 100% ceramic is fine to use on glass top stoves. However, if you have an induction cooktop,  it is likely that your ceramic cookware will not function properly on it.  Check whether it is compatible first before making a purchase. 
What is Ceramic Cookware Made From?
Ceramic cookware is typically engineered from metal. It contains a metal base which is coated with a clay glaze (try saying that five times fast!). The glaze is what makes the ceramic cookware nonstick and easy to clean. It also allows for the pan to come in a myriad of colors, including  rainbow shades.  
Cookware that is constructed solely from ceramic can be more taxing on a glass top stove because of its weight and textured bottom. 
Pros of Ceramic Cookware on Glass Top Stoves 
Ceramic cookware on glass top stoves is perfectly fine. However, you should be willing  to take diligent care of both the ceramic cookware and your stove top. By opting for a cookware set that isn't 100 percent ceramic, you will most likely save hassle and money. 
Below are some of the positive aspects to having ceramic cookware in your kitchen. 
Conducive to Heat 
One of the main benefits of ceramic cookware is that they are immensely heat resistant. Some can withstand up to 850 degrees Fahrenheit. This puts ceramic cookware on par with other metal cookware. 
Toxin Free 
Another benefit of ceramic cookware is that it is free of toxic matter. Metal cookware can leach particles into your food. You don't have to worry about this happening with your ceramic utensils. 
Are you interested in healthy cooking? Read our article about how to fry an egg without any oil or butter. 
Versatile 
Ceramic cookware can double as great storage containers for leftovers. Look for ones that come with lids. Don't worry about unwanted metals leaking into your food when it's put away for the night.
Having versatile cookware also means you can minimize the use of plastics in your household. 
Aesthetically pleasing, this cookware comes in a variety of colors. My personal favorites are anything in pink! We will go into detail regarding some of the best ones in the market further on below. 
Exceptionally Nonstick 
Did you know ceramic cookware is highly nonstick? There is a lot of debate around this, but the general consensus is that a ceramic pot will retain it's nonstick qualities for at least  a year. 
Do you want the coating on your pot or pan to last longer? Here  are a few ways to enhance and retain the nonstick coating: 
Wash only using mild soaps and avoid rubbing anything coarse on the cookware. Try to wash by hand.  I know this is sometimes difficult after a busy day followed by another hour or two spent cooking;

Change the temperature of the pan gradually whenever  needed. Do not jump from hot to cold and vice versa too quickly;

Briefly inspect the pan for any missed food when you clean it.
Cons of Ceramic Cookware 
There aren't many downsides to ceramic cookware, but there are a few drawbacks worth mentioning here. 
Less Durable Cookware
You may find that ceramic cookware tends to be on the flimsy side. They are lightweight and may move around your glass top stove too easily. 
Uneven Heat Distribution 
Because ceramic pans are delicate, using very high heat on them is not advised. Before you start cooking with your ceramic cookware, read the manufacturer's instructions to get a better idea of how to use it. 
Your ceramic pans can hold high heat, but I wouldn't recommend them for cooking certain foods. If you want to cook a steak or other kinds of meat, you should use a cast iron skillet or stainless steel frying pan. 
Curious to know about alternative cookwares for glass top stoves? Read through our article, Best Frying Pan for Glass Top Stove [Compare and Contrast Charts + Best Pan to Use], to learn more.
Which Ceramic Cookware Sets Are the Best for Glass Top Stoves?
Instead of simply  answering your question, we thought it would be helpful to list out some of the best ceramic cookware sets and frying pans to use with  glass top stoves. These are colorful, no doubt, but did you know that they are  sustainably made? If you are a health conscious person, I am sure this a big plus for you 
Keep reading to see which ones made the cut.
Safety tip: This pan comes with a lid. Be careful not to put  it face down on the glass top stove.
Check out the most recent price on Amazon. 
Have a look at the latest price on Amazon. 
Check out the latest price on Amazon. 
Related reading: GreenLife cookware is also featured in our article, Top 15 Best Cookware To Use on A Ceramic Glass Cooktop.  


How Do I Care for My Ceramic Cookware?
When you cook with these pans or pots,  use wood, silicone, or nylon utensils for stirring or mixing . Metal can lead to the cookware getting scratched. 
After you have finished cooking, let your ceramic cookware cool down first, before you submerge it in water, 
What Do I Need To Do To Use My Ceramic Cookware? 
You don't need to do anything specific to use your ceramic cookware on a glass top stove. The best action you can take is to look after both (cookware and stove top) to the best of your ability. 
While cooking, one shouldn't cook foods on high heat anyway. Being mindful of cooking temperatures lengthens the cookware's lifespan and also preserves a lot of the nutritional value in the food you're cooking. 
Final Remarks 
It is acceptable to use ceramic cookware on a glass top stove because most of the ceramic cookware you  buy will not be 100 percent ceramic. 
Using cookware that is only ceramic may harm your  glass top stove because of its heaviness and potentially rough texture. 
Ceramic pans are versatile and will not leave toxins in your food. They also serve as storage for leftovers after a big family dinner. 
You need to take significant care of glass top stoves and the same goes for ceramic cookware. If you take the time to read about how to best care for your appliances and your kitchen, you won't go wrong! 
What kind of ceramic cookware do you have at home? Let us know in the comments below.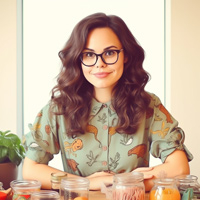 Latest posts by Jennifer Ulloa
(see all)
Last update on 2023-11-07 / Affiliate links / Images from Amazon Product Advertising API