Learning how to use a new kitchen appliances can be difficult. 
The Instant Pot Duo Mini is a great appliance, especially for those who aren't big fans of cooking, as it will make your life hassle free. 
I have been using it for over a year now and lost count of the delicious meals I've made with this versatile appliance. 
Is it easy to use the Instant Pot Duo Mini for the first time? 
There is a small learning curve to mastering the Instant Pot Duo Mini,  but this holds true for every new and feature-rich device.
Our handy guide will take you through step by step on what it is like using your Instant Pot Duo Mini for the very first time. 
 But before that, let's find out what is so special about the Duo Mini?
The Instant Pot has skyrocketed in popularity in the last few years. This beloved kitchen appliance is a favorite with busy home cooks for its pressure cooking. 
So much so, that anything that resembles a pressure cooker is commonly referred to as an Instant Pot. 
But did you know that the Instant Pot is actually more than a pressure cooker? 
According to the Instant Pot website, it is a multi-cooker with 7 different functions. The Instant pot not only pressure cooks, but also steams, sautees, slow cooks, and keeps food warm.
I've used many kitchen appliances before, including pressure cookers that you need to leave on the stove for a lot of time. I prefer the Instant Pot Duo Mini for a few reasons: 
There's no need to leave it on the stove as you simply plug it in the electricity socket to use it. 
It is highly versatile. As mentioned, it boasts 7 cooking features. 
It's very quiet, you won't even notice it's there! 
Check out the price on Amazon. 
How Does The Instant Pot Work? 
The Instant Pot does pressure cook and functions by creating a sealed, closed environment where steam gradually builds up. Under this extreme pressure, the fiber in the food becomes tender and the flavor amps up.
Did you know that the nutritional value is preserved when you use an Instant Pot? The steam stays inside the pot rather than evaporating into the air. The speed in which the food is cooked also means the nutritional value doesn't get lost.
Is the Instant Pot Duo Mini Safe For Use? 
You may have seen news stories that go into detail about the misuse and dangers of pressure cookers. According to Instant Pot, a lot of these cases boil down to just that.. misuse.
Instant Brand, the overarching company of the Instant Pot, have meticulously designed and experimented with their products to avoid most kitchen accidents. 
The product incorporates quite a few safety features including pressure sensors, food burning sensors, beeping mechanism, lid locking, and valve safety. 
In short, yes, the Instant Pot Duo Mini is very safe to use. 
How to Use the Instant Pot Duo Mini - Step by Step Guide 
So you've got you yourself an Instant Pot Duo Mini. It's prepped up, and you've read the manual, but you're a little unsure of what to do. Don't worry because we have a very handy guide to show you the ropes. 
Step 1 - Finalize Your Instant Pot Recipe
Before you start your Instant Pot, you need to lock a delicious recipe to cook. Since the Instant Pot perfectly pressure cooks food, I recommend cooking a bigger batch of food and using it as leftovers throughout the week. 
If you need help finding a recipe, check out this Instant Pot recipe book on Amazon. I have one in my collection and have tried various different recipes. My favorite is the Salsa Chicken with Coriander Rice. 
After you choose your recipe, check that you have all the ingredients for it. 
Step 2 - Set Up Your Instant Pot 
Lucky for you, this part is super easy. If you're like me, you do not have your Instant Pot out on the countertop. I have mine stored away. 
Take your Instant Pot out and plug it into the socket. Make sure it has room around it as you will need little space for ventilation. 
Have a look at the interface and get familiar with different settings. Arrange the accessories that come with your Instant Pot Duo Mini – keep them ready or set them aside
Running low on kitchen space? Great news, the Instant Pot (just like an air fryer) is perfect for small dorm rooms. 
Step 3 - Prep And Place Food Inside The Instant Pot Duo Mini
Once you have chosen a recipe, it is time to chop, cut or slice the food and prep it. 
Instructions on how to open your Instant Pot lid are shown on page 13 of this Instant Pot manual. 
Step 4 - Start Your Instant Pot Duo Mini 
Once you are ready to start cooking, place the appropriate ingredients inside the pot. For most recipes, you'll initially be adding aromatics (onions, garlic), peppers, spices, and other vegetables to the pot. The meat usually follows these ingredients and the last element you will be the liquid. 
Using the Saute Setting on Your Instant Pot Duo Mini 
Most recipes, not all,  require you toy saute the food. There is a you can Select  "saute" button on the interface. Once you've added the ingredients, press the button to heat up the chamber. 
The saute function is similar to sauteing with a frying pan. Use a soft spatula to stir the food around and soften it, and getting it ready for the big pressure cook. 
Step 5 - Pour in Your Liquid (If Needed)
If you are cooking a stew, adding the liquid should be the last step before you close the Instant Pot and press "pressure cook."
Keep in mind that the liquid will not "evaporate" so it is best to not put in the full amount of liquid if you want a thicker stew.


Step 6 - Set and Forget 
This is the most satisfying step in the cooking process. Press the "pressure cook" button and set the time. Once you've added in the minutes, you're good to go. 
The "pressure cook" setting will pressurize the interior of your Instant Pot Duo Mini and let the the various flavor mingle while keeping it in the meat or the sauce. Most Instant Pot recipes will require cooking at high pressure. 
You will see a timer count down the minutes of cooking left. Once you've pressed the button, you can forget about the cooking and continue with chores, other work or spending time with friends and family. 
Is your Instant Pot making a strange noise? Read through our article, Instant Pot Hissing While Cooking [What This Means + What To Do], to learn more about troubleshooting your Instant Pot when things go awry.
Step 7 - Open the Instant Pot, Depressurize, and Serve!
The Instant Pot Duo Mini will make a beeping sound when it is done cooking. The pressure would have been released during the process. Do make sure you check the valve and potentially move it over to ensure there is no pressure left in the pot. 
This pressure release can go one of two ways: you can do a quick release or natural release. On a natural release, you can wait for the valve to float to Venting. This can take anywhere from 15 to 30 minutes. 
If you don't want a natural release, you can do a quick release. Put oven mitts on and move the valve over to Venting. The steam may be hot which is why oven mittens or hand protectors are very important to use. 
Instant Pot Duo Mini Tip:
Want to know an Instant Pot hack? Press "keep warm" for your food to stay warm until you serve it up.
Cleaning and Caring For Your Instant Pot Duo Mini 
Once you have completed your first cook with the Instant Pot, it is time to clean up. Like the air fryer, only specific parts can be cleaned (and even put through the dishwasher). 
Let the appliance cool down. Remember that you must clean the inside pot after each use. This is the only aspect of the Instant Pot Duo Mini that is dishwasher safe. 
Care Tip: There is only a one year warranty on all of the Instant Pot products which makes it necessary to diligently care for your new appliance. 
Instant Pot Duo Mini Safety Tips 
The Instant Pot has various safety features built-in. However, when you're cooking it is important to ensure everything stays as safe as possible. 
Avoid placing your hands on the surface while cooking. Also try to avoid any metal surfaces on your Instant Pot during cooking as they may be very, very hot.
Leave the Instant Pot sitting while it is under pressure. Any sudden movements may disturb the cooking process, so it is best to just "let it be" (as John Lennon would say!)
Don't fill the Instant Pot over two thirds full. Your food will not cook properly and it may even burn if the chamber is too crammed.
Delicious Recipes To Try In Your Instant Pot Duo Mini
I've collated some of my favorite recipes to cook in the Instant Pot. This is a small list to get your started along with extra details about difficulty level and cooking time. 
| | | |
| --- | --- | --- |
| Salsa Chicken with Coriander Rice | Medium - you will need to cook and prepare the rice separately | |
| | Easy - everything cooks inside the Instant Pot, which makes prep easier | 30 minutes - the paella rice takes a while to cook as it is a very stout rice grain. |
| White Chicken Chili with Rice | Medium - the recipe calls for a few different ingredients that may be hard to get | |
Final Remarks 
And there you have it! A complete guide on how to use your new Instant Pot Duo Mini. 
Cooking with your Instant Pot Duo Mini may seem like a daunting task at first, but once you successfully cook one meal,  you will gradually get the hang of it. 
This multicooker is an excellent purchase, and you'll be grateful if you have a large family or lots of friends to cook for. Ensure you follow our safety tips and take good care of your Instant Pot. 
It doesn't take up too much room and it will last a long time. What more could you want from a beloved kitchen tool? 
Are you thinking about purchasing an Instant Pot or do you already have one? If so, which model? We'd love to hear your comments down below.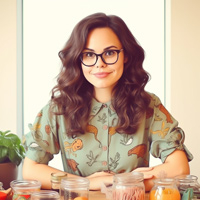 Latest posts by Jennifer Ulloa
(see all)
Last update on 2023-09-06 / Affiliate links / Images from Amazon Product Advertising API