Right up there with instant pots, air fryers are totally revolutionizing our home kitchens. These new wave kitchen appliances cut way down on meal prep time, making healthy eating easier to achieve for everyone.
If you've just unpacked a brand new Ninja air fryer — congrats! Or if you're just doing the research before making your purchase, this guide will help you know what you're in for.
So how do you use an air fryer for the first time? It's easier than you might think! Air fryers are pretty straightforward with easy-to-read interfaces, including the Ninja brand ones. You simply unbox, clean, preheat, air fry, and then it's time to eat!
We're going to show you exactly how to use your new air fryer, from preheating to roasting your new favorite side dishes (or main courses)! Even if you've used an air fryer before, you'll learn something new in this detailed article.


Air Frying Vs. Deep Frying
Deep frying, which we're all familiar with, is delicious yet not the healthiest way to eat your food. While indulging in deep-fried food is totally fine in moderation, air frying is better for everyday meals. Air frying instead of deep frying can cut the calories in your food by a whopping 70-80%.
An air fryer works similarly to a convection oven (yes, it can even bake!). They use fans to circulate hot air around your food. Using just a fraction of the oil that you'd use for deep frying, you can still get your foods crispy and delicious!
Air fryers are also much more versatile than deep fryers. They can roast, broil, bake, reheat food, and some even double as food dehydrators. Better still, they're more energy-efficient than using full-sized appliances.
Learn more about what oil to use in your air fryer in our article: Can You Put Oil In An Air Fryer? [How To Do It & FAQ]


How to Use the Ninja Air Fryer
First things first. After unboxing — and finding the perfect spot on your kitchen countertop for your new cooking buddy — make sure you remove all packaging (some might be inside the air fryer basket). Then, remember to plug it in!
Included with your purchase should be an owner's guide and a quick start guide. Keep these somewhere you won't lose track of them — they're very helpful.
Do You Need to Preheat the Ninja Air Fryer Before Cooking?
Absolutely. To preheat your air fryer, select the program you wish to use (air fry, bake, etc.) , adjust the temperature to where you need it, then set the timer. 
You should give the air fryer at least three minutes to preheat before adding food to the basket.
Now, you're ready to cook!
Your Ninja Air Fryer Settings
These are the settings on the Ninja air fryer XL, if you just have the four-quart Ninja you may not have the "bake" option.
Air Fry
The main reason for your purchase, right?
This option is best for foods like french fries or chicken wings.
For this setting, make sure your crisper tray is in the unit. Press "air fry," set your temperature, the timer will automatically set for 20 minutes, you can adjust this down to three minutes to preheat the appliance.
Put whatever you're air frying in the basket on top of the crisper tray. Set the timer again. Every few minutes, remove the basket and shake it to mix the contents. Don't overfill your basket.
When the unit beeps, your food is ready. Dump it onto a plate or remove it with tongs.
Air Roast
Just like the air fry setting, you'll still want to use the crisper tray. 
This setting is optimal for roasting vegetables and meats.
Use the same way as the air fry setting, using recipe recommended temperatures and cooking times. Don't forget to preheat for three minutes.
Bake
You only need the crisper plate if you're baking something that isn't in its own baking dish. The air fryer is large enough to fit a ramekin, but not something large like an 8 x 8" brownie pan. 
You can use this setting for cakes and small desserts. 
A single-serving cupcake? Yes, please.
Reheat
Breathe new life into your leftovers with the reheat setting. Still use the crisper plate and allow the unit to preheat. 
Add ingredients to the basket, set temperature (not too high), and time.
Dig in!
Dehydrate
This is where things get a little different. Load a layer of ingredients in the bottom of the basket, then add the crisper plate on top and put down a second layer of ingredients. Do not overlap ingredients. 
Press the "dehydrate" button, adjust your temperature (low for dehydrating), and set a timer (dehydrating takes a while!).
Use this function to dry veggies, fruits, or even jerky.
Tip: Remove excess moisture from foods as much as you can before dehydrating.
Check out all our articles on reheating food:
Ninja Air Fryer Cooking Times Chart 
This chart often comes affixed to your Ninja air fryer:
| | | |
| --- | --- | --- |
| | | |
| | | |
| French fries (not frozen) | | |
| | | |
| | | |
| | | |
Zucchini chips!
This is my go-to recipe when I need a quick veggie side dish for a meal. Zucchini is a versatile, low-carb vegetable with a ton of nutrition. No huge ingredient list in this recipe and the prep work is super simple.
Air Fryer Recipe: Zucchini Chips
You will need:
One (or more!) zucchini squash
A little bit of oil (I like avocado, but olive is nice too)
Salt and pepper
Any other seasoning you like (garlic powder or even chili powder if you want some heat)
*If you use more than one zucchini, you may need to roast in batches to prevent overcrowding.
Air Frying Directions
Select "air roast" on your air fryer, set the temperature to 400 degrees Fahrenheit, and turn it on. Let it preheat for three to four minutes before adding the veggies.
Wash and dry your zucchini before slicing. Slice your zucchini squash into thin (around ¼") rounds. Pat the slices with a clean dish towel or paper towel to dry them a little bit.
Toss the slices in a bowl with a little bit of oil and your chosen seasonings. Dump the slices from the bowl into the basket of your air fryer (be sure the crisper tray is in place!). 
Set the timer on your air fryer to 18 minutes. If you like crispier food, you can let these slices go for 22 minutes. 
Every four or so minutes, grasp the handle of the basket, pull it out, and shake it. This is to flip your food and ensure all the slices cook evenly. You can also use tongs to flip food over if the shake method isn't working well enough. Re-insert the basket and cooking will resume automatically.
Once they're at your preferred crispiness level, let slices cool on a plate before enjoying. Optional: Squeeze a bit of lemon juice over them before eating!
This is an easy and delicious way to eat an entire zucchini all by yourself! Incorporating more vegetables into your diet just got a whole lot easier. Works as a side dish for salmon or as an appetizer that won't fill you up before the main course.
Recipe Substitutions
First off, you can swap zucchini squash for yellow squash. Secondly, to be honest, this basic recipe works for most vegetables that you would typically oven roast. You can sub in sweet potatoes, Brussels sprouts, or even butternut squash.
Cooking times may vary a little depending on the vegetable. Root vegetables like potatoes will need longer, Brussels sprouts are smaller and will need less time in the air fryer.
If you don't have a lemon, you can use a dash of vinegar instead.
You may also like: Air Fryer VS Microwave [With Handy Comparison Charts]
Conclusion
Air fryers. They're basically the new toaster ovens now. And are rocking our meal prep world or what! You can even snuck in an air fryer to your college dorm room (if your campus allows it t). 
The point I am trying to make is – they're tiny but pack a punch, and in addition makes healthy eating an enjoyable experience.
We like the Ninja air fryer (not to mention the Ninja blender) but there are other great air fryers on the market if you want to shop around.
What should talk about air fryers next? How to use an air fryer for chicken or make a brownies? Let us know in the comments what you're craving!
See also: Philips Air Fryer VS Nuwave [Comparison Charts + Which One To Buy!]
Frequently Asked Questions (FAQ)
Got more questions about air frying or on the Ninja air fryer? Find some answers below!
How to Turn on an Air Fryer?
This may vary for other air fryer brands, but this is how you turn on a Ninja air fryer:
Select the air fryer setting you wish to use (fry, roast, bake, dehydrate, etc.), set the temperature, set the time, and hit the start button. The start/pause button should be at the middle bottom of your screen. 
Or, simply turn it on using the power button on the lower right and then choose all your settings!
Where Can I Find Air Fryer Recipes?
We are working on articles that contain recipes for the air fryer, for now, you can check out:
How to Use Philips Air Fryer for the First Time (scroll down for a salmon recipe).
You can also find a lot of air fryer recipes on Ninja's website. Or, consult your quick start guide for 20 tasty recipes including french toast sticks, Greek-style potatoes, and crispy fried fish. 
Do I Need to Wash My Air Fryer Before its First Use?
We recommend that yes, you do wash and dry the removable basket and tray. For future faster cleanings, Ninja does say the basket and crisper tray are dishwasher safe.
They are ceramic-coated nonstick parts, so you'll find cleaning them to be a breeze.
Can I Use My Air Fryer to Reheat Food?
Absolutely! The air fryer is perfect for reheating food, similar to a toaster oven. Because it's smaller and energy-light, it's a much better choice than your regular-sized oven for reheating food. It'll be faster and use less energy, win-win!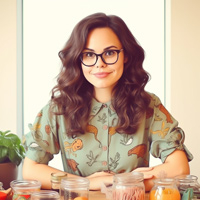 Latest posts by Jennifer Ulloa
(see all)